The wine tasting room "Vinothek"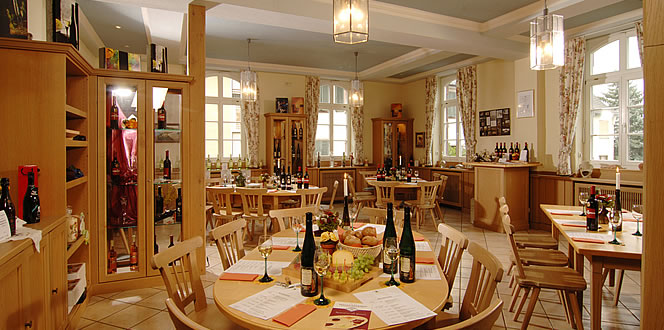 Our wine tasting room has been rebuilt in 1995 and is designed as a multi-purpose room.
It is primarily used as an exhibition and sale room. You may tast wines in a very informal athmosphere. In this Vinothek you can not only taste and purchase our products of highest quality, but you will also find quality gift items around wine.
It is also possible to arrange wine tastings for groups.
In addition to this the Hallgartener Vintners' Association draws attention with an interesting program of events. Pre-registration is advised for the wine hike under the theme "Hiking and Tasting". Very popular is the "Rolling Wine Tasting" on the train tracks of the Nassau Tourist Train. A boat ride on the Rhine river becomes a "Floating Wine Seminar". These events are always accompanied by vinological presentations of selected wines of our production.
From near and far the visitors arrive to our Christmans and Easter fairs that are established tradition already. In the decorated rooms one may enjoy not only various exhibitions of local customary arts and crafts but also purchase everything necessary to create the seasonal atmosphere at home. Many a visitor covers his needs for seasonal gifts at the same time.
For further information to our events please click on the page "Events".
Öffnungszeiten:
Monday to Friday 8 a.m. to 12 p.m.
and 1 p.m. to 4:30 p.m.
Saturday 9 a.m. to 12 p.m.

We welcome your visit during your next outing!