Our wine styles

Kabinett
A 1730 receipt from a German cabinet maker shows that he had worked in a "Cabinet Keller" (cupboard cellar) at the monastery of Eberbach, and that wines from as far back as 1712 were being stored there. Apparently this area of the monastery was set aside to store only the most precious wines. The name Kabinett has been used ever since to denote wines of quality.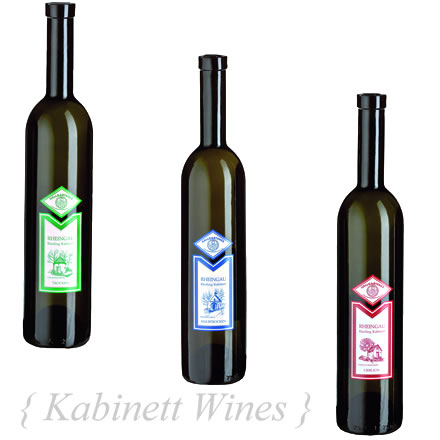 Spätlese
The story is that a rider was sent by the monks of the Cloister Johannisberg in Rheingau to the bishop's cathedral in Fulda to get permission to begin harvesting the grapes belonging to the Cloister. Farmers in the area captured the rider and held him prisoner. By the time the rider escaped and made his way back to the Cloister, some of the grapes had started to rot on the vines. Nevertheless, the monks harvested the grapes, both good and bad, and made what turned out to be a wine of exceptional quality and character. To this day German wines that have achieved an unusual level of quality are known as "Spätlese" or late harvested wines.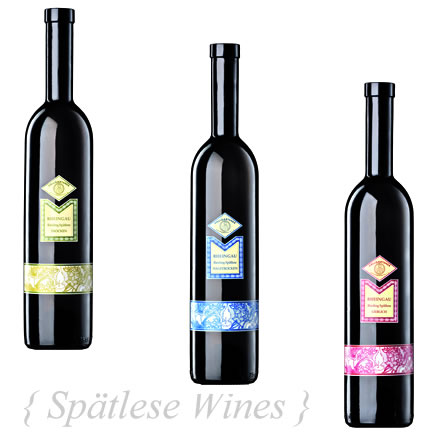 First Growth Wines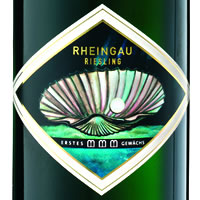 The new "First Growth" designation in Germany signifies that a wine is made of grapes from a vineyard known to produce high quality fruit, that great care was taken in the processing of the grapes, and that the final product is one of the finest wines in the region. To ensure the best fruit possible, production quantities are limited to 50 hl/hectare. Vineyard managers thin the fruit to one cluster of grapes per shoot. This concentrates the flavor and aroma components in the remaining fruit. At harvest clusters are hand picked, brought to the cellar and pressed whole.
The resulting wine is then reviewed by an independent sensory rating panel to ensure that it has the characteristics to merit a First Growth designation. This guarantees to the consumer that the First Growth wines actually meet a higher standard of quality. Hallgartener Weinkeller is proud to be able to offer a number of wines with the First Growth designation.